Traffic Cone Guide
Traffic cones, also called safety cones, road cones, highway cones, or construction cones, are usually cone-shaped markers that are placed on roads or footpaths to temporarily redirect traffic in a safe manner.
Traffic cones mark Temporary Traffic Control (TTC) Zones, "An area of a highway where road user conditions are changed."
They are often used to create separation or merge lanes during road construction projects, automobile accidents, planned events, although heavier, more permanent markers or signs are used if the diversion is to stay in place for a long period of time.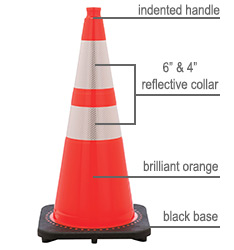 Traffic Cones by Size
Traffic Cones by Color
Many of our cones have standard uses, see below: However this guide only offers suggestions and many of the colors can be used as accent colors, to match color schemes, for corporate logos, valets, VIP, special events and more.
If you have any questions on the appropriateness of the colors, do not hesitate to ask our cone experts at 888-388-0180
Traffic Cones Base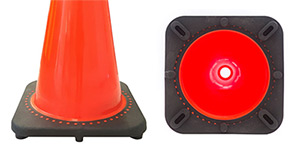 Black Injection Molded Base
Two-piece, interlocking base
Base won't separate from the body even under extreme stress
50% recycled materials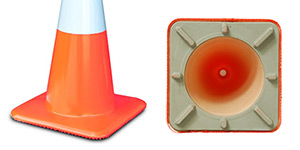 Flow Molded Base
Solid piece with no seams
Body has more give
More economical